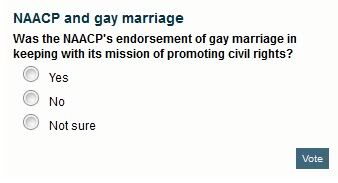 THE NAACP NEEDS OUR HELP!

Click on the pic above or here and scroll down until you see the box that looks like it (it'll be on the right) and click YES and then VOTE!

The NAACP's headquarters are in Baltimore and by showing your support for THEIR support for same-sex marriage in a poll of the city's largest newspaper, we can make our voices of support heard.

You do NOT need to sign in/have a Baltimore Sun account to vote. SO PLEASE VOTE YES AND SPREAD THE WORD!